People started talking about a new Ford GT a few years ago and since then many said that a new version of the car would be released at roughly $150,000. This made a lot of people happy and especially so when Ford showcased the all new GT back in 2015. However, the big surprise came when they announced that the 2017 Ford GT would cost in excess of $400,000 which would put it in the same ballpark with the Lamborghini Aventador. On top of that, it seems that Ford will allow only 500 people to actually buy the car but they are expected to make around 1,000 units which means that even though Ford will not be officially selling the car to that many people, a lot more will be able to enjoy it at likely very high prices.
2017 Ford GT Review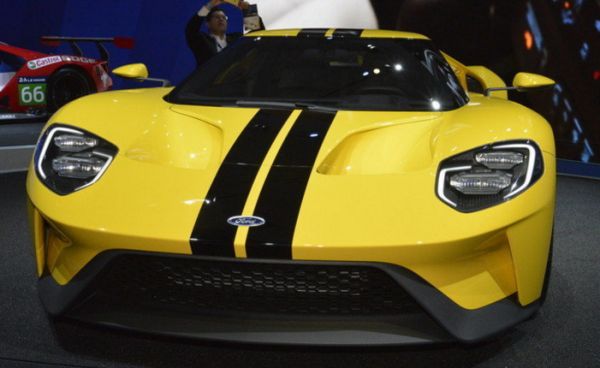 This is an interesting tactic by Ford which is quite close to what Ferrari is doing. Let's just hope that it will work for them considering the pedigree Ferrari has. The good part is that the Ford GT doesn't lack the drama or the high-performance traits hypercar need. The car is built on an entirely new chassis made entirely out of carbon fiber which is then wrapped in a carbon fiber body. As standard, the GT will get regular 20-inch aluminum wheels but on the options list, there are two sets of carbon fiber rims, similar to what Koenigsegg is doing.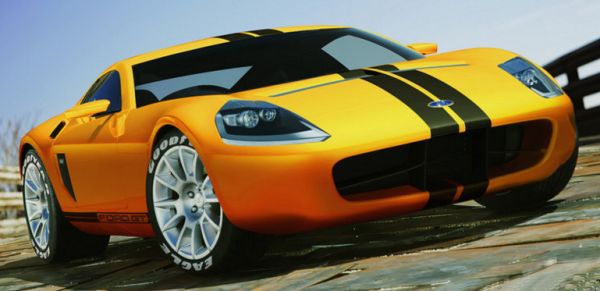 Active aerodynamics are also standard on the 2017 Ford GT which makes it the first car to use this type of technology in Ford's roster. It features a large rear wing which deploys on braking or while doing at high speed while the front feature unique air ducts which channel the air around the car. Unlike any other current production model, the GT also gets two flying buttresses at the back which act just like a set of reversed wings, giving the car a lot more down force than many of its rivals and also helping it achieve a faster top speed thanks to a really low drag coefficient. Also, thanks to the fact Ford kept the spirit of the original unchanged, even though most of the body is all new it is clear that they took inspiration from the 1960s model which is a nice touch to the overall design of the car.
2017 Ford GT Interior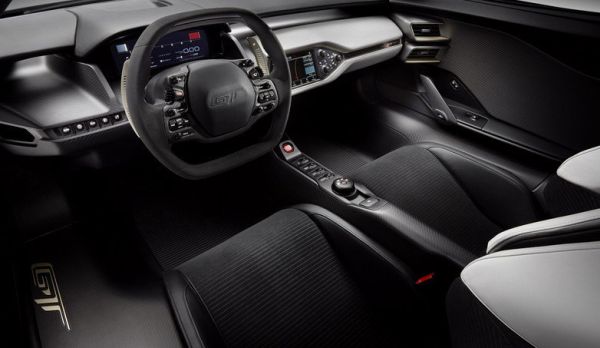 Like with any other hypercar, the interior is not really meant for all out comfort but instead it is practical and highly supportive. The dashboard is quite minimalistic in design and all the information is being displayed on two high-resolution large LCD screens. The seats are provided by Recaro and offer a large amount of support while being quite comfortable.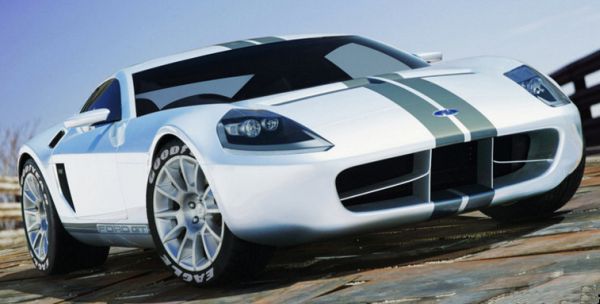 2017 Ford GT Specs
You would expect the 2017 Ford GT to be powered by a large V8, just like its predecessors were. However, this time around Ford installed under its rear deck lid a rather small 3.5 liter twin-turbocharged V6 petrol engine which despite its displacement, is an all new unit with larger turbochargers, new heads and a lot of internal improvements as well. This is going to make over 600 horsepower and 600 lb-ft of torque and it will allow the GT to get to 60 MPH in less than 3 seconds and to go past 200 MPH with ease. This will also be possible thanks to the car low weight, active aerodynamics and 7 speed dual-clutch automatic which has been specifically developed for this car. The official numbers are not out for now but we expect the GT to be faster than its competitors if the racing model is any indication on how fast the production model is going to be.