2017 Ford F-150 Raptor – There have been quite a few high-performance trucks in the past but most of these production units were usually intended for an on-road use which means that the previous generation of the Raptor was, in fact, the first of its kind and it was also the one which managed to start an entirely new trend on the US market. It became obvious for most of us that it would be quite hard for Ford to come up with a worthy successor but once they've shown us the new truck back in early 2015 they proved that they can do it.
The 2017 Ford F-150 Raptor still isn't available for sale more than one and a half years after the official release which is a bit odd. However, many think that the main reason for this is that Ford's new 10 speed automatic, which will be standard equipment on the new Raptor, isn't exactly ready and Ford wanted to take their time to perfect the transmission. This is understandable and considering the fact that there isn't really a competitor for the truck then they don't really have a reason to worry. We only hope that when it will become available for sale, the rumored $50,000 price tag will turn out to be true and on top of that we hope that the new smaller engine will be as good as everyone says it will.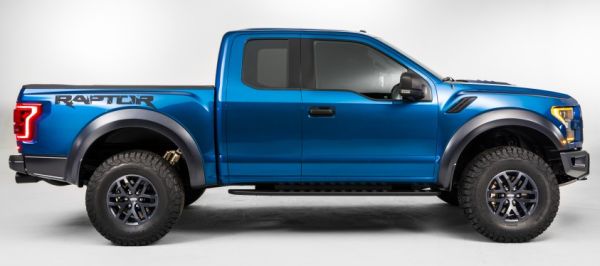 2017 Ford F-150 Raptor Review
Let's take a look at the latest pieces of information Ford released about the upcoming Raptor and let's see in details the main perks of the 2017 Ford F-150 Raptor. First of all, while at first many thought that the new Raptor will be available with an extended cab only, Ford dismissed these rumors a couple of months ago when the all new Crew Cab version was shown. This is basically identical to the usual version of the truck with the added benefit of having two larger rear doors and a lot more space for the back passengers.
Engine
At this point in time the 3.5 liter EcoBoost V6 is a certainty in the upcoming Raptor but unlike most other trucks in Ford's lineup and even some of their cars, the new 3.5 liter V6 is in fact quite a bit more different. It uses a redesigned engine block with more cooling and oil channels, larger turbochargers, new radiators which should be quite a bit better than those on the usual 3.5-liter engine and on top of that a new engine management system. The actual output of the engine is still unknown for now but Ford said it will make more than 450 horsepower and 450 lb-ft of torque which is already quite a bit more than the older 6.2 liter V8. Like we mentioned above, the transmission of choice will be a 10-speed automatic which will drive a standard four-wheel drive system that will feature either limited slip differentials or manually lockable ones.
2017 Ford F-150 Raptor Design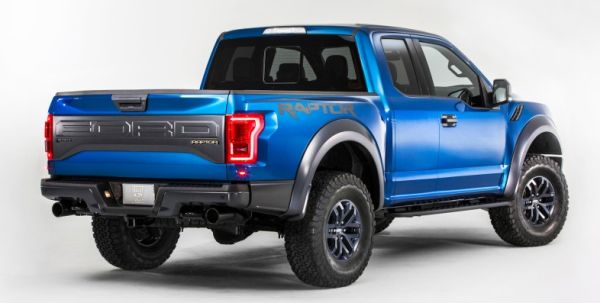 Probably the largest improvement on the 2017 Ford F-150 Raptor over the base F-150 truck is the running gear which has been extensively redesigned in order to take the abuse of a pre-runner truck. As standard, the truck will come with Fox racing shocks with external oil reservoirs, progressive springs, upgraded anti-roll bars, beefier brakes than standard, skid plates as well as 17-inch rims wrapped in off-road tires, all needed to allow the truck to jump over sand dunes without breaking. Unfortunately, the cabin of the new Raptor follows the same recipe as that of its predecessor so besides a new steering wheel and a new pair of seats everything else is pretty much identical to that of the Super Duty series of trucks with a couple of extra blank buttons.