Until the all new Raptor is going to hit the market, the 2016 Shelby F150 will have to do. This is not the first time Shelby has been involved with trucks. In fact, the older version of the Raptor also received a high-performance model from them. This time around, because the Raptor is not out just yet, the new Shelby F150 is actually based on a regular model of the truck. They start with the regular 5 liter V8 engined truck and start up from there. The entire running gear has been revised, its looks and even the interior. On top of that customers can also choose a more impressive engine which should be a standard feature considering its price.
2016 Shelby F150 Price
The interesting part is that Shelby is only going to make 500 units of these trucks and the base price for one will be $85,500 which is quite a bit more than the Raptor. The one with the tricked out the engine will set you back $99,000. However, considering the rather large price tag we really wonder who would get the less powerful engine.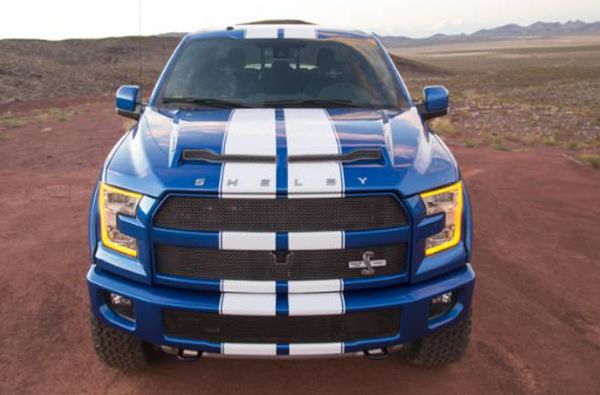 Because Shelby is going to make 500 units and not just a handful, they actually worked with quite a few companies in developing the truck. The entire suspension system of the 2016 Shelby F150 has been revised by them in cooperation with Fox Racing Shocks and BDS Suspension. This means that the all-aluminum F-150 can now be quite similar in off-road performance to the Raptor. 18-inch alloy rims designed by Shelby have also been added to the mix which has then been wrapped by BF Goodrich all terrain tires. The brakes are beefier than before and both the front and rear axles use lockable differentials now.
Check out Armormax for armored truck options.
Exterior and Interior Changes

On top of the changes to the running gear, both the interior and exterior of the truck have been revised. It still looks like an F150 but the front end now features mesh in its grille as well as a large hood scoop. The front and rear bumpers have also been slightly modified while the bed has been covered with a stylized bed-cover. Shelby also added their unique blue paint scheme with the white stripes as standard. However, a red truck with black stripes or a white on with blue stripes will also be available. Its cabin has been tricked out with contrasting stitching as well as a few more auxiliary buttons.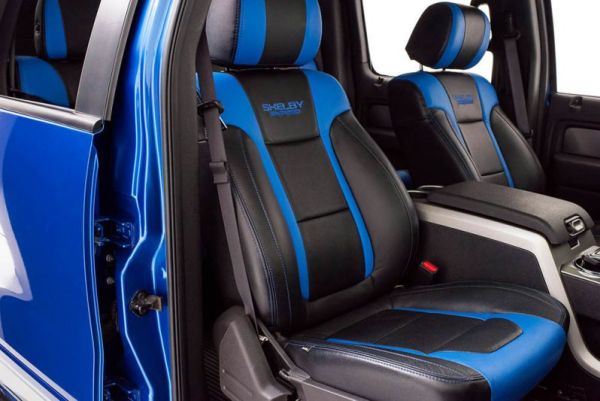 2016 Shelby F150 Specs
Let's now take a closer look at Shelby's specialty, the engine. The 2016 Shelby F150 can be had only with Ford's 5 liter V8 Coyote engine. They can either left this as it left the factory, in which case it will make 395 horsepower and close to 400 lb-ft of torque with the help of a new intake and exhaust system. However, the choice most of its buyers are going to get will certainly be the supercharged V8 petrol engine. On top of the changes on the regular version, this will also get a large twin-screw supercharger, a new fuel system, a better cooling system as well as a different cold air intake and a larger throttle body.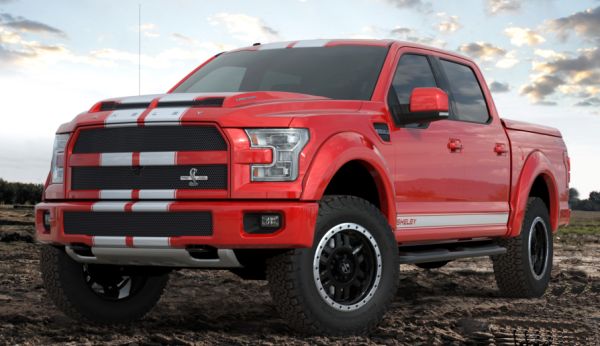 The end result for this unit is 700 horsepower and more than 550 lb-ft of torque which is quite a bit more than standard. Shelby hasn't offered any official performance figures but we expect it to be quite a bit faster than even the Raptor. Unfortunately, the 10-speed automatic is not available so a 6-speed box will have to do it. Also, Shelby is not saying if the four wheel drive model is going to be offered. However, we do know that the towing capacity will get closer to 12,000 pounds which are quite a bit better than standard.
For more information visit https://www.jeepzine.com/best-tonneau-cover-for-f150-supercrew/